Drip Feed Content
Drip feeding content is handled in 3 ways. For pages and posts and is done at the same time as the content protection making the setup super quick and easy.
You can either bulk select the pages and posts in the Protected Content section or you can select the products to add a specific page or post to on the page / post itself.
Protected Content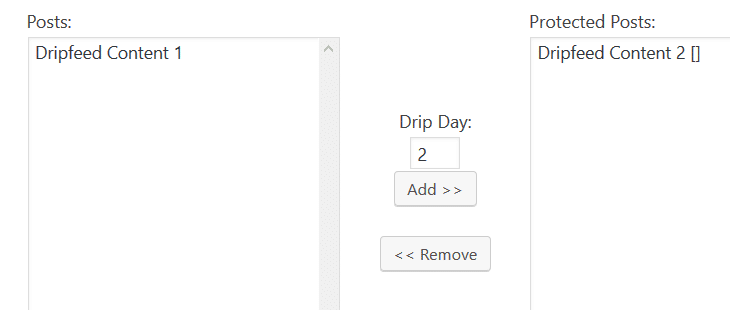 When selecting the pages / posts for protection you can enter the drip day the content will be made available in the box before adding. Once set you will see a number in square brackets by the pages / posts. This will remind you which day that page or post will become available to members of that product.
You can also drip feed the files your site members have access to in the same way.
You can view the file protection tutorial here and the remote file protection (including Amazon S3) tutorial here
Page / Post Settings


On each page or post you will see a meta box below the post editor for the products you can add that page / post to.
When selecting a product you can also enter a drip day.
Once this page / post is saved that content will be protected from all visitors.
Members of that product will then get access once they reach that day in their membership.
Membership Drip Advance


You can advance certain site members through your drip feed content by updating the Drip Advance box on the Members / Affiliates page.
One scenario for this is you may wish to give review access to a course then you would edit that user updating their drip advance to the end of the drip sequence.
For example if you had a 2 month sequence you may set it to 60 days which would advance that user by 60 days and allow them to skip the need for the drip sequence to play out.