ClickBank Integration
ClickBank integration is done in 5 steps.
1. Open the 'Advanced Tools' section in your ClickBank account Vendor Settings page and enable 'Encrypt Transaction URLs'

2. Add the Secret Key from ClickBank into the Fast Flow settings page


3. Copy the Fast Member IPN URL from the Fast Member product into the Instant Notification field within your ClickBank account settings and choose the latest version of the IPN. Test IPN to verify the URL is connected.


4. Add the ClickBank product ID and vendor details to the Fast Member product.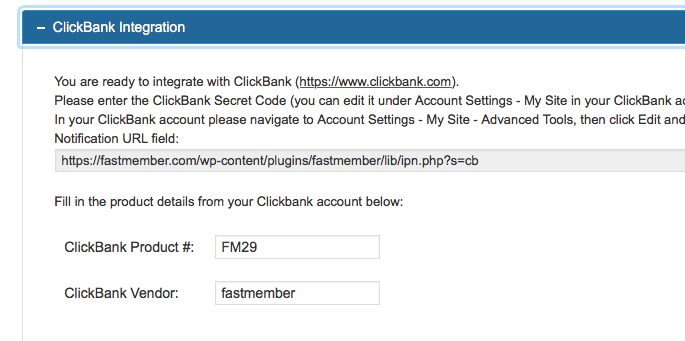 5. Add a ClickBank Paylink to your sales page.

You can use Fast ClickBank pro to generate a unique Paylink for your product along with Fast Buttons to add a CSS3 payment button to your sales page.
Full tutorials for each of these are here.
Fast ClickBank Pro
Fast Buttons